Shoppe
The Fabulous Shoppe
The Fabulous Macadamia Flavours
Premium Aussie Macadamias
Sensationally Sweet & Salty
FINE, PREMIUM Aussie Macadamias, just a little sweet and salty to the tee.
Rustically Roasted
FINE, PREMIUM Aussie Macadamias, rustically roasted with a just a hint of premium sea salt.
Simply Spicy
FINE, PREMIUM Aussie Macadamias, roasted with The Fabulous Rat's secret spice!
The Fabulous Granoli Blends
Premium Aussie Blends
Gorgeously Gourmet
The Gorgeously Gourmet Blend has some of The Fabulous Rat's favourite ingredients in it! Apart from a base of premium grains, The Gorgeously Gourmet blend is made of Australian Grains, PREMIUM nuts, like FINE Australian Macadamias and Cranberries.
Freakin' Fruitless
As its name goes, The Fabulous Granoli Freakin' Fruitless Blend is totally fruitless, made of a base of Australian grains & PREMIUM nuts like FINE Australian Macadamias, and sometimes, The Fabulous Rat throws in another of her favourite GOURMET nut!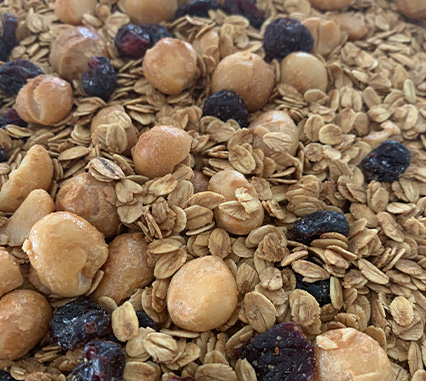 Madly Macadamias
The Madly Macadamias blend is one for fanatic Macadamia lovers. The highlight of this blend is truly, Australian Grains, PREMIUM dried fruit, fabulously FINE AUSSIE Macadamias! Definitely a blend that screams Macadaaaaamiaaaaaaaasssss!
Purely Pepitas
The Purely Pepitas Granoli blend is definitely purring and pouring Pepitas all over that breakfast bowl! Comes with a base of Aussie grains, PREMIUM pepitas and a PREMIUM dried fruit!
Crazily Currants
Crazily cool and filled with Currants, The Crazily Currants Granoli blend is strictly curated with PREMIUM AUSSIE Currants accompanied by PREMIUM nuts and a base of Aussie grains.
Nutty Fruity Medley
For those non-grain lovers, just a mixture of PREMIUM nuts & dried fruit.
Sign up for our newsletter
Get recipes, tips and updates delivered straight to your inbox!