The train ride to Ottawa was about 41/2 hours but with all the beautiful scenery throughout, it really did not feel like it was an almost 5hours journey. We have been hearing so much about the Winterlude Festival, so the Mister decided that we go and see what it exactly is since it was a long weekend (Family Day) and also the last weekend of the Winterlude Festival. Without a doubt, it was freezing cold in Ottawa, nevertheless, it was a total new experience for us. As a child, watching all the cartoon movies in the snow, I have always wondered what it would be like to be in a snow park and make a snowman and Yaaaaay!! I have now seen one for myself, what an enriching, fun experience. Temperature dipped down to almost -30 degrees celsius on one of the nights we were there, layers upon layers upon layers upon layers and it was still somewhat freezing! I could feel my "magic jackets" working themselves to the max! Despite the really cold temperatures, Winterlude was yet another AMAZINGLY AWESOME experience….. Finally, I made my very own Snowman, Snow Angel (tried to 😛 ) and went on a Snow Sled ride!
The beautiful ice sculptures…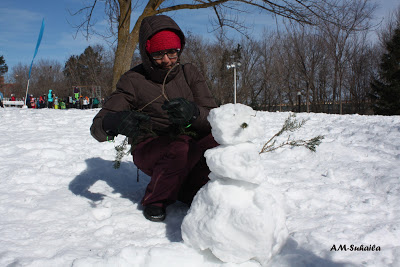 In the midst of all the wonderful Winterlude, Thank you to the one up above for blessing us to be able to appreciate his creations yet again and thank you for every waking moment in this world…..