The sort of blue that surround, once at the top of the Burj Al Arab, steered everything into a direction so royal. It almost felt like one was in a Palace overlooking the deep blue mediterranean. From that grand entrance to that experience of an afternoon tea, accompanied by live Harp performance, Burj Al Arab was somewhat very royal yet relaxing.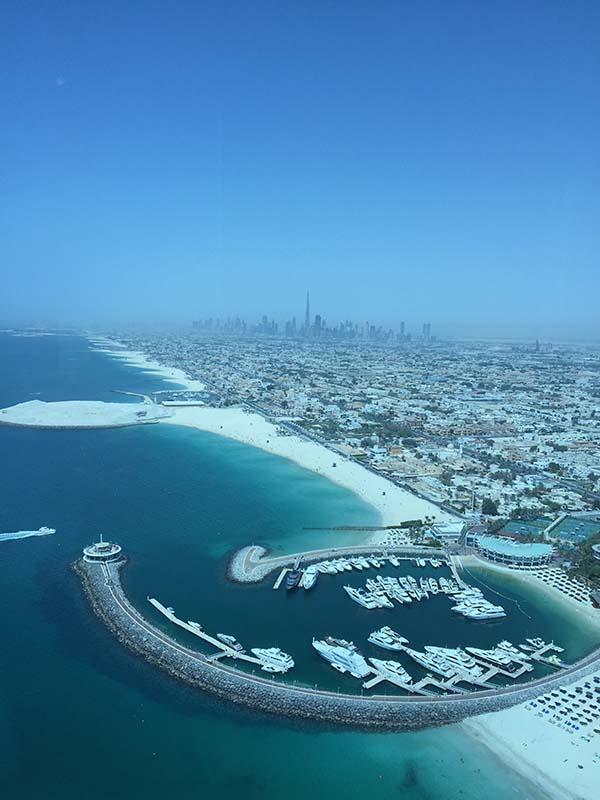 The afternoon tea started off with juicy quality dates being offered and welcome drinks. A cold dessert followed by a savoury Quiche followed suit.
Just when we thought, we were already having a 'delicious time', things got way more yummylicious! The savoury and sweet tiers started making their appearances. Intricately made savoury gourmet sandwiches to finely crafted gourmet desserts! Simply irresistible and just amazing!
And of course, all this was being savoured in the company of the magnificent view from the Burj and the lovely accompaniment of the Live Harp. Relaxing, peaceful, beautiful, all in one!
Overall, Hight Tea at the Burj AlArab was definitely a worthwhile experience, particularly for those looking for crazy-licious moments 🙂
Too caught up with the beautiful views and amazing food, only managed to get this quick shot of the Burj, on the way out 😉