Quinoa, Quinoa, Quinoa, Quinoaaaaaa ohhhh Quinoaaaaaa….. Where do I begin? 😉 Quinoa has saved my life many times!!!!!! Ahahkz, how is that so, you may wonder.. Well, let me ask, how many times have you been in the situation of that Sunday night and suddenly remember that oh goshhhh… It's back to work tomorrow. It's Monday and it's 9pm and then that thought of packed lunch creeps in and you just don't want to buy lunch and……………………………….
You then suddenly realize there is quinoa in the fridge and that solves all the agony! Ahakz 😉 Quinoa and Tuna, with or without greens, is already a meal, all good to go! Yes, that is my true blue Quinoa story. Quinoa is so easy to prepare and is also a great alternative to rice.
More often than not, on Summer days when I feel like I want a big salad for lunch, more than just Quinoa and Sardines, I add on the protein and greens, with some easy dressing over and Voila! My Summer meal is done! I find that this Quinoa Salad with Sardines is perfect on a hot Summer day, particularly for those 'too hot to eat' days. If you are after that perfect Summer Salad, look out for this very, Very, VERY EASYYYYYYY recipe below….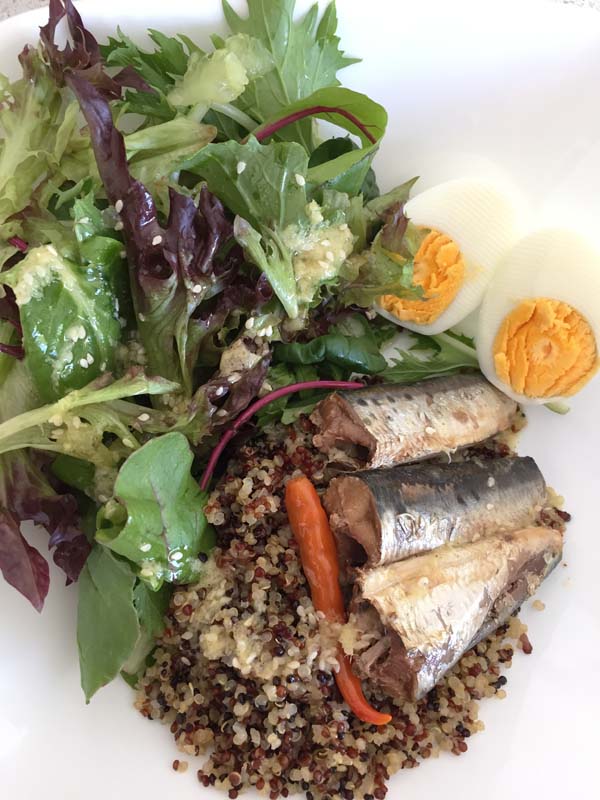 Easy Quinoa Salad with Sardines
A quick, easy and healthy salad.
Ingredients
1

cup

quinoa

1

can small Sardines in Olive Oil

John West / Always Fresh brands are ideal for this salad

A handful mixed greens.

washed and drained

1

egg

hardboiled
For the dressing
1

teaspoon

sesame seeds

1/2

teaspoon

minced garlic

Squeeze of Lemon juice

Salt & Pepper to taste

3

tablespoons

Olive oil
Instructions
Bring one and a half cups water to boil.

Add in Quinoa and leave to boil slowly till Quinoa has absorbed all the water and leave aside.

Plate some Quinoa onto a serving bowl.

Arrange all other ingredients together.

Pour dressing as desired.

Ready to serve.
For the Dressing
Put all dressing ingredients into a small bowl.

Give a quick whisk.
Notes
When boiling Quinoa, ensure the amount of water is in the ratio of 1:1/1.5 with the Quinoa so as to prevent Quinoa from turning soggy.