The Mister left for Toronto, a week before i did…
I decided to stay a bit longer in Singapore…The thought of the super long journey only triggered that it made sense for me to stay a bit longer….
Something interesting happened to me! Or rather lucky I must say – just a couple of days before i flew back to Toronto, i received an email from Emirates, offering a complimentary upgrade to Business Class for Skywards members, for one sector only – (Dubai-Toronto)…
I almost deleted the email thinking it was some junk email or a hoax but somehow, i decided to click on it and Voila! There you go…. A rather reasonable upgrade offer at a very reasonable fee. I discussed with the Mister and he said i should take it up seeing as to how i would be travelling back on the long journey on my own. After some thinking, i did….
Never once did i regret taking up the offer as it definitely helped with my back injury problems and my meniscus tear!! When the Mister is around, each time we fly, i can somehow "cheat" by inching a bit more into his space but when i'm on my own, i can't possibly do that and i have been dreading the 14hr journey on my own actually….
Upon reaching Dubai Airport, i checked in into the Business Lounge – speaking from experience, the food was sooo heavenly, as compared to any other arline lounge food!!! Mommydearest sent me a text asking, "So, did you get your B-class???" I chuckled at the thought of how everyone actually calls me "B" and i've derived a spelling for that as "Bea" and when Mommy dearest mentioned that, i just chuckled – It is indeed my "Bea-class" 😉
The first plane i boarded in Dubai had to be vacated due to an engine failure, which resulted in an almost 6 hours delay so i went back into the lounge….I can only thank the one up above i made the decision to take up the upgrade offer…I can't believe we were asked to get off the plane after having settled into our seats on the first flight….
The second plane left about 6hours later and i ended up reaching Toronto at almost 9pm in the evening from a scheduled 3.45pm!!! What an experience travelling a super long haul flight alone!
Nevertheless, Emirates is still one of the best airlines around – well, at least the safety of passengers were prioritized when we were all being made to disembark the aircraft – i choose to look at it that way….
Meanwhile, here's some photos of my very own "Bea-class"….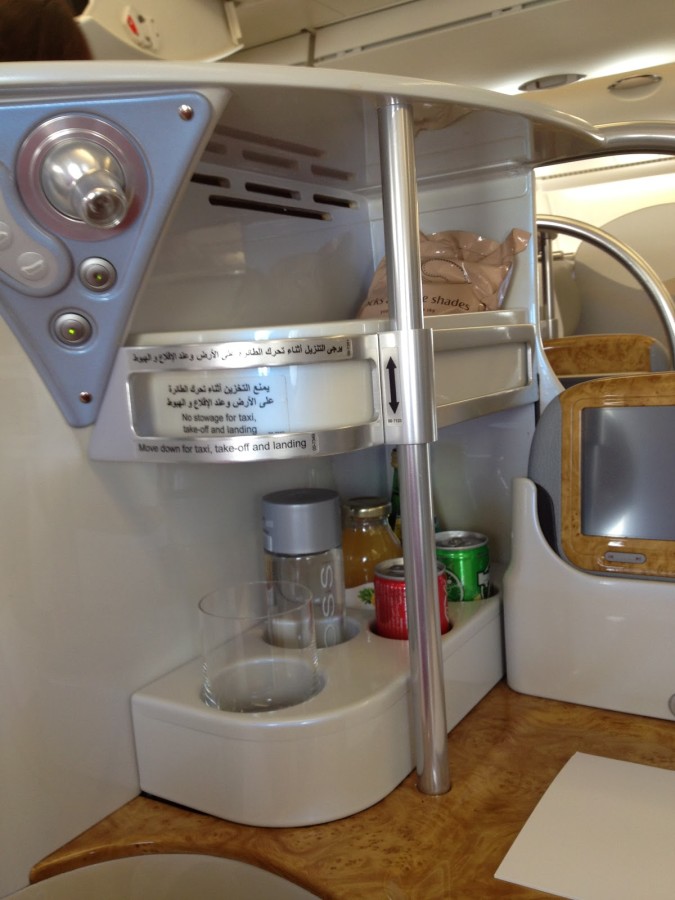 Despite all the delay, I arrived somewhat fresher than i normally would – something the Mister noticed – not self-declared by me okayyy 😛 Must be because i was so exhausted that i slept all the 12hrs out of 14hours journey time – only woke up for meals and toilet breaks!!
So Dear Mister…. my very own "Bea-class" again next time? Yes? No? Maybe?…
Mwahahahahahahahah….