We went into J's Restaurant without having a clue what it was going to be about in terms of cuisine and atmosphere. On a normal day, we would do some background research or 'checks' before popping over – just something the Mister and I do so we aren't totally clueless when we eventually get to the restaurant.
However, this time, we decided to go by the recommendation of a dear cousin and made our way to J's Restaurant one Tuesday evening. In fact, it was supposed to be a 'surprise' new spot the Cousin has been wanting to take us to. The Mister and myself were still super jetlagged from our very long trans Atlantic flight.
The lovely street where J's Restaurant is located at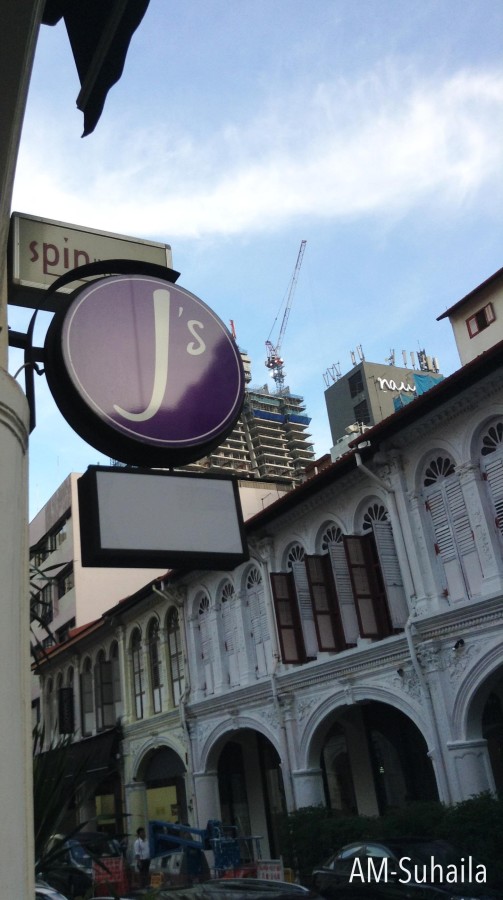 J's Restaurant ambience
Having been exposed to several restaurants and cuisines over in the Americas, as soon as we looked at the menu, we spotted the Latin American elements of the various dishes like Quesadillas, Burrito, Fajitas and many more.
I told myself, "Nice! Like finallyyyyy…" Finally – because I was quite excited as we could only normally "look" at certain food items on the menus on our trips in the Americas due to our dietary restrictions and requirements. And now, finally, we can actually have a taste of anything and everything on the menu, as everything is Halal at J's Restaurant! Somewhat, that jetlag feeling faded away as we explored the menu further and placed our orders!
We went by the recommendations of the Cousin who has been there several times We ordered a couple of appetizers and 2 mains to be shared amongst the 3 of us. I'm sure we probably would have had a full meal each to ourselves if we weren't jet lagged! We decided on the House Salad, Poppers, Paella and Quesadillas. For dessert, we had Churros with Bananas & Mangoes and the Bocas Negras. The poppers and Quesadillas were particularly my favourite, leaving the 'melt-in-your-mouth' kind of taste and the Jalapenos (in the Poppers) weren't spicy at all!
The Poppers
The inside of the Poppers, yummy!
House Salad, very refreshing!
Paella
Yummy Quesadillas!
Beautiful Desserts
Churros with Bananas & Mangoes, up close..
Bocas Negras, up close..
The food was so delicious that I looked J's Restaurant up online afterwards when we got home. First thing that caught my eye on their website was their tagline, "Welcome to J's, where great food is served with joy…." Indeed, my experience at J's Restaurant was filled with much joy and a very full tummy!
On their web page, I learned a little about how J's Restaurant was transformed from the previously struggling 'El Toro Restobar'. Also, J's Restaurant holds a significance of joy and life for owner, Joy Mahbubani, who had picked herself up from being very unwell once before. A very uplifting and enriching background indeed!
Overall, our dinner was amazing and very yummy! The next time we are in Singapore, we will definitely be back for more food and drinks (too jet lagged to try the colourful, appetizing drinks / mock-tails) Hopefully no more jet-lagged dinners next time!
For more information on J's, you can visit them here: http://www.dineatjs.com or just pop in to J's Restaurant, located at 7 Purvis Street, #01-01, Singapore 188586.
For advanced bookings, ring them at: +65 68874787