It was the Maa-ji's birthday and we decided to have her Birthday Lunch at one of her favourite buffet places – Straits Kitchen. It is not always that her actual birthday falls on a Saturday- lucky her this year! It was an ideal Saturday afternoon, at a more than perfect location for our very own, private Maa-ji's exclusive birthday lunch 🙂 As always, the Straits Kitchen did not disappoint. Everything from the mains to desserts were down to perfection.
Some may say that the variety is not as exclusive as other places – there are no cold platters, no cold seafood but heyyy! Hang on – Look at its name – STRAITS KITCHEN – so it focuses on really good, quality Straits themed and local Singaporean Cuisine themed food. Everything was simply done to perfection, with no flaws and the best thing was that – we were allowed to take away the super delicious, complimentary cake they provided! This definitely was service at its best! If you're after the best local cuisine in Singapore, Straits Kitchen is definitely the place to be.
Maa-ji's favourite is of course, the Indian Station, which had an amazing selection of seafood, meat and vegetarian dishes. I must say the Indian Station has really delicious, authentic Indian Dishes. For me, the prawns and fish curry were just ohhh YUMMMMMMM!
Of course, how can I not mention my all time favourite dish – CHICKEN RICE. Here, at Straits Kitchen, there is both Chicken or Duck Rice. The variety of condiments to go with the chicken rice is just beyond words can explain! Sooooo many, tooooo many and me likeeeeyyyyyyy 😉 Just so amazing how this place does their Chicken Rice, well that's gourmet Chicken rice at its best I guess!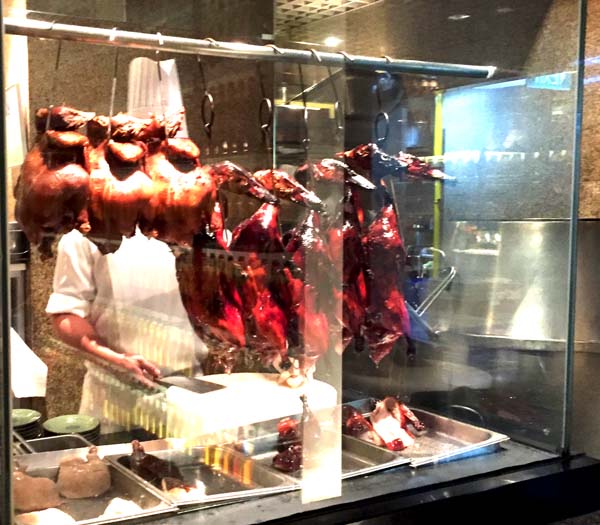 The 'Popiah' (fresh Spring rolls) station was also always busy as almost every person who passed by the station would stop and look and of course then, couldn't resist but have some. Nothing beats freshly rolled Popiah!
I shall allow the remaining pictures to paint how my tastebuds were being teased with the various local variety of "Straits" themed food at the Straits Kitchen, Grand Hyatt, Singapore. I was too excited to eat and did not manage to snap away at the Chinese and Malay Stations which were filled with way more good food, from Popiah, to Rojak, to Satay and moreeeeee….
And of course,on another note, here is the Maa-ji's Red Velvet Birthday cake we got her from The Royals Cafe! 🙂 Happy Birthday Maa-ji Dearest 🙂 Hope you liked our lil celebrations this year ♥