Located at a quieter part of downtown Toronto, Ja Bistro is a hidden Japanese gem indeed. From the outside, Ja Bistro looks really neat and may be easily thought of, as just another Japanese Restaurant, but just one step ahead into the restaurant, one can immediately identify that Ja Bistro is not just another Japanese eatery.

The modern design of Ja Bistro, makes its small space somewhat cosy and comfortable. The attention to detail easily puts Ja Bistro above other Japanese eateries in downtown Toronto. The Miso soup is to die for – unique with that fresh Loster flavour, simply delicious, perfect for all seasons of the year.
The salads at Ja Bistro are always ever refreshing and never fail to impress, definitely only the finest ingredients used. Of course, what is a Japanese meal without Sushi and Sashimi! Their Sushis are unique, beautifully served on a marble or stone slate. Ja Bistro has Sushis that are 'blow-torched', also known as Sushi Aburi. The raw fish on the Sushi is being 'blow torched' just before serving. The fragrance of these sushi is just simply beautiful and definitely mouthwatering. Of course the normal Nigiri Sushi or Nama Sushi is very subtle-ly and perfectly flavoured in order to retain the natural flavours of the Sashimi fish used.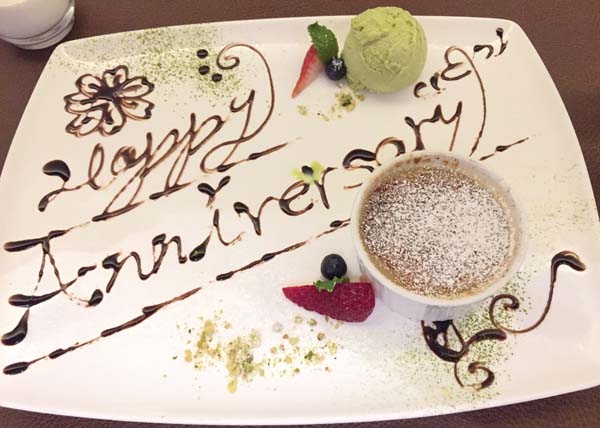 The desserts are also undeniably delicious. The creme brûlée is just something I can't go past each time! As we were there for our anniversary dinner, the chef added his special touch by specially presenting us with our lovely 'anniversary dessert.' Indeed, Ja Bistro is without a doubt a Modern Japanese Bistro, probably offering the best Japanese in downtown Toronto! If you can't wait to visit Ja Bistro, why not pay them a virtual visit here first. Be sure to make a booking, as space availability may be limited, especially on weekends.